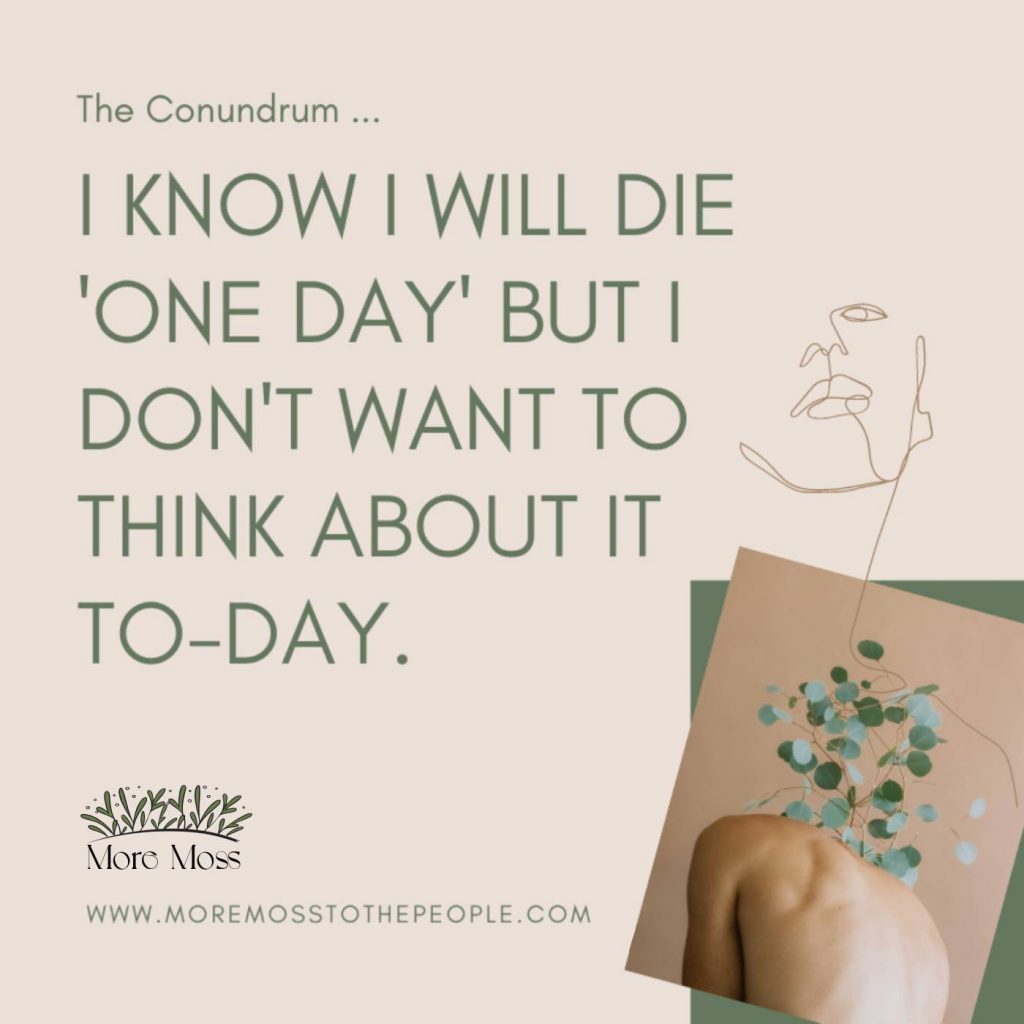 THE CONUNDRUM. I KNOW I WILL DIE 'ONE DAY' BUT I DON'T WANT TO THINK ABOUT IT TO-DAY.
By Åsa Nilsson | Aug 11, 2023



So when is the 'best' time to speak of death if not now?
I have been 'thinking' about getting my important documentation re-done for so long now that it's quite embarrassing. I can blame it on the confusion of living in Sweden and still being a citizen of the US. But really?
I have to do what makes sense for me NOW because that's the only thing that is real. Well, that's questionable too. HA!
We need to remember that these documents are all WORKING documents. That means we can CHANGE THEM when we want to… but what can't be done is to fix this AFTER we're dead. Ya' getting me? Just start.
Far too many of my friends and loved ones have nothing in place. Yeah, I know I have to do it. I really have to get on that.
Take this as your nudge. The time is now.
It's time to have these uncomfortable discussions NOW and I'll start it because I do NOT intend to leave my loved ones with a mess.
Will you join me on this journey? Follow along as I go through my home. I will show you the way I intend on doing this and you can follow along.
God doesn't put two people together to only help one.
Never.
Xx,
Åsa
Host Name: Åsa Nilsson
Host contact Information:
IN THIS EPISODE I TALK ABOUT:
Definition of a Conundrum.
The best odds of any bet. 100% of us are going to die.
Having the tough conversations about our final wishes, individually.
Taboo topic not wanting to deal with it, broaching the discussion.
Share my process of how I plan on death cleaning my home (even after I completed Konmari Tidying Up in 2017).
I am a "collector" of bowls, serving dishes, boots, coats and purses.
I can't figure out how to find the Peacock Special that was aired in the USA about death cleaning. Can you help me?
My step by step process will look like this. Attic-basement-entry. Kitchen. Dining room. Living Room. Bathrooms. Bedrooms. Laundry Room. Recycling Room. Garage. And finally creating The Most Beautiful Love Letter You'll Ever Write. Your final wishes.
Update your beneficiaries NOW!!
Children under 18, get documentation in place now whom you want to take care of them.
Hire a lawyer, get help if you need to. Ask for help. Don't take a chance or delay one more minute.
You are not alone. Ever.
Mentioned in this episode:
Contact Information for Komeil Asli, Podcast Production Manager.
Freelance Graphic designer, UI/UX Designer and Front-end Developer.
Subscribe on Spotify, ACast, Google Podcasts, Apple Podcasts + YouTube (@AsaNilsson).
Like and follow us on Instagram, @AsaNilssonSweden.
If you have any general questions or comments for the show, click moremosstothepeople@gmail.com.
If you'd like to advertise with us, moremosstothepeople@gmail.com.
Thank you so much for listening!
Xx,
Åsa
You can find us here: