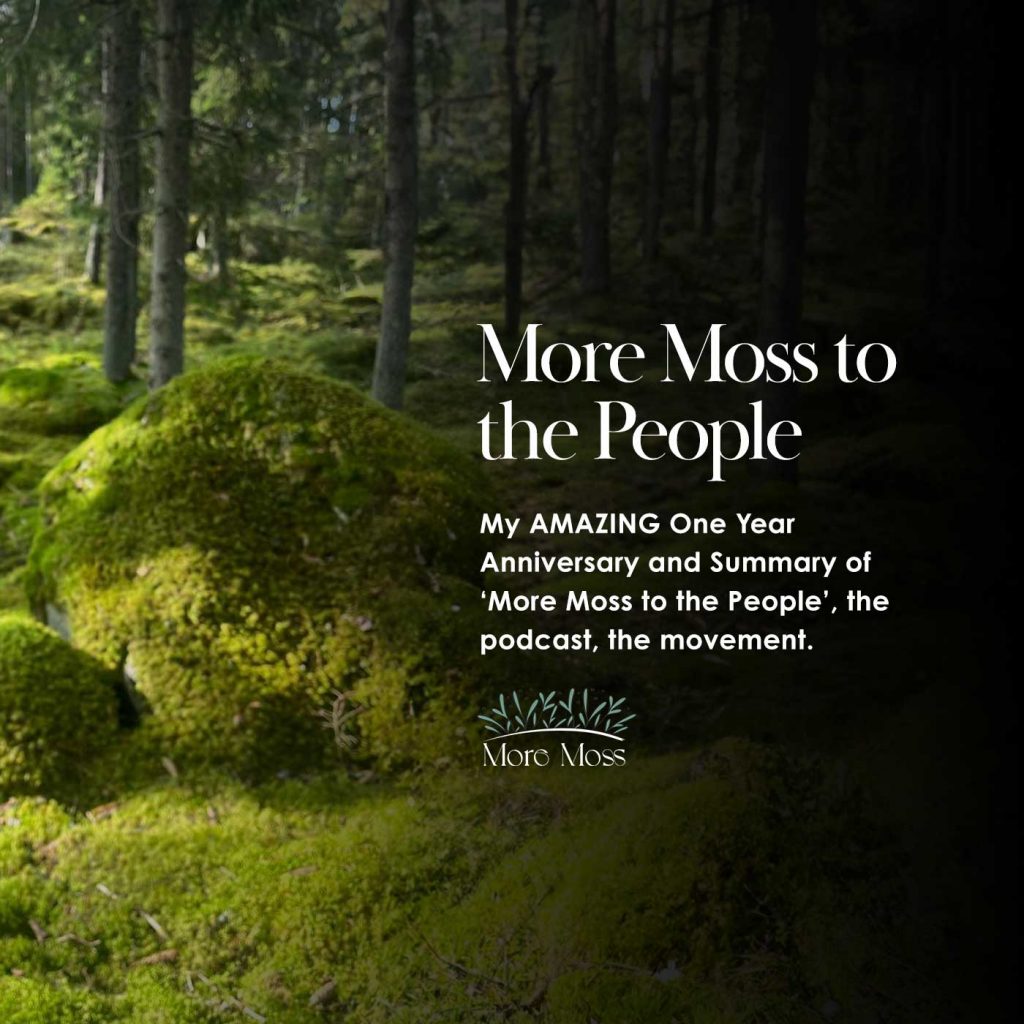 My AMAZING One Year Anniversary and Summary of 'More Moss to the People', the podcast, the movement.
By Åsa Nilsson | Nov 10, 2023



How do you sum up one year of your life? Let alone the best year of your life?
I had no clue what was ahead of me when I started down the road of podcasting.
I didn't know what my Voxer conversations with my friend Angela would mean to OTHERS.
It's not only about us and what we thought we needed. It is so much bigger.
We were willing to start thinking about slowing our own lives down.
I was willing to talk to people about how THEY slowed down because I needed models.
I had to understand my OWN part in trying to 'keep up with the Joneses' … especially after I realised I didn't even WANT to be LIKE the Joneses. And who the hell are the Joneses??
What did I need?
Enter my beautiful guests and my own open and truthful unveiling of my heart. Every week. 
Let's lead from our own hearts.
Thank you for your encouragement and love.
Åsa
Host Name: Åsa Nilsson
Host contact Information:
IN THIS EPISODE I TALK ABOUT:
One of the best years of my life.
How did More Moss to the People come about?
I was living a hectic, harried life with no direction. How can I learn new ways?
'More Moss' is about coming back to Self.
Sweatshirts, MERCH. We still need these!
Story of my childhood and wanting to fit in.
I am safe. Why is this important to me?
Running away to Sweden, starting over, run from chaotic life, why did I keep creating this? The mirror.
I am the problem.
What's more interesting than trying to be a million dollar life coach? Being a human who cares and hears others, what's bigger than money?
Listen in and sniff out the clues. How hard can it be? 
What are the TRUE numbers of a real podcaster? Someone that doesn't give up after 7 episodes (podcast fade)? A non-star? I will share my numbers with you.
All my past guests and what they bring to the table.
Common denominator with all my guests?
What have I learned?
What have I discovered about myself?
Where do I find my guests?
What would I do differently?
Reading the book, "I'm not too busy" by Jodi Hills. Tristan Publishing.
Mentioned in this episode:
Contact Information for Komeil Asli, Podcast Production Manager.
Freelance Graphic designer, UI/UX Designer and Front-end Developer.
Subscribe on Spotify, ACast, Google Podcasts, Apple Podcasts + YouTube (@AsaNilsson).
Like and follow us on Instagram, @AsaNilssonSweden.
If you have any general questions or comments for the show, click moremosstothepeople@gmail.com.
If you'd like to advertise with us, moremosstothepeople@gmail.com.
Thank you so much for listening!
Xx,
Åsa
You can find us here: