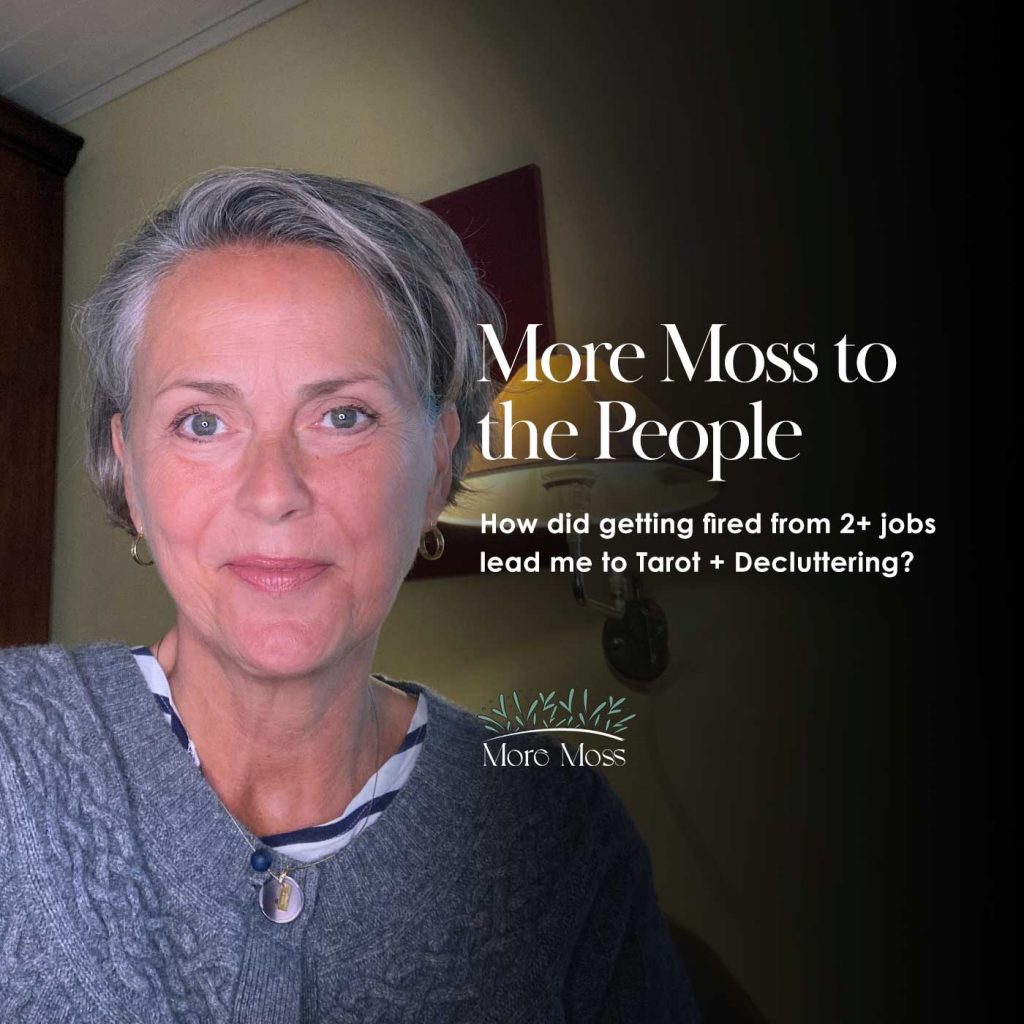 How did getting fired from 2+ jobs lead me to Tarot + Decluttering?
By Åsa Nilsson | Sep 01, 2023



The roads we've travelled lead us to this exact spot and this divine moment in time.
Have you ever taken the time to unravel your career journey to evaluate what your truest, highest skills and strengths are?
That's exactly what I did this week in this episode. This week is a stream of consciousness episode so be ready.
This week I also pull tarot cards as I tell you my story and you will see how uncanny it is how the cards reflect exactly what I am discussing. So very cool. You might want to watch this episode on YouTube so you can see the cards.
Thank you for being here.
Host Name: Åsa Nilsson
Host contact Information:
IN THIS EPISODE I TALK ABOUT:
Thank you to YOU for listening
Healing journey of podcasting, sharing my voice and heart with YOU.
Why am I doing this podcast, I am frequently asked.
Miscommunication is OUR problem. I know! I spent many years blaming others for my problems.
Doing shadow work, the more I share the dark, insecure sides of me the better I feel.
What have I seen of myself since starting this podcast 11-11-22?
(Åsa starts to pull tarot cards as she speaks of her story, watch how the cards reflect exactly what she is talking about). Happenstance? I think not.
10 Pentacles. Abundance, happiness + joy. What does that look like for me? What's next? Work to extend my highest self. Am I enough for you?
Choosing what we do for work. Look at my past careers, how to tie them together?
Start with graduating from The Ohio State University, 1990
Bank teller job (this was actually NEARLY a firing but I had a wonderful boss that saw my skills).
Art Materials Trade Association
Selling Trinkets and Trash out of the back of my car (2nd job I got fired from).
Selling Residential Real Estate 10+ years .. LOVED this career choice for so many reasons.
Seven pentacles comes up, tarot card. Laying the seeds. Watch them grow.
Moved back to Sweden, 2011, started working at school Admin. Tough on my mental and physical health. Losing my marbles. ALL my people pleasing,self abandoning, and codependency started to unravel.
Age of 50, 2017 resigned, started my own business. Find out why I chose Life Coaching.
Tarot: Four swords came up. Stress was palpable.
Is your body screaming at you?
Podcast, today, what is it I love? What comes easily for me to do? Look at the patterns of the past!
The Hierophant tarot card comes up. The teacher. Hmmm. We teach each other.
The Emperor tarot card comes up. The ruler. The masculine energy of showing you where you are stuck, get unblocked. I can do that easily.
The Chariot tarot card comes up. It's time to move. Time for action.
I access my answers through Spirit, my own intuition AND I interpret answers and next steps via the tarot cards. Do this naturally and it makes me happy to share.
Is tarot a fluke? God,Spirit,Source is my copilot.
5 Cups tarot card comes up. Seeing what is lost but not seeing what is in front of you.
Offering tarot readings to help you get unblocked, 3 sessions or 1 to get started. FUN!
I'm coming to your town soon! Columbus, Ohio October 8th till December 1st, if you want to work with me!
Result: To help you crate a better relationship with YOURSELF.
Judgement tarot card popped up. Drop the judgement of yourself and others. It's time to rise, sweet love.
Getting your needs met. It's time to get to work, as the next and final tarot card revealed,
The 8 of pentacles. HA!
Mentioned in this episode:
Contact Information for Komeil Asli, Podcast Production Manager.
Freelance Graphic designer, UI/UX Designer and Front-end Developer.
Subscribe on Spotify, ACast, Google Podcasts, Apple Podcasts + YouTube (@AsaNilsson).
Like and follow us on Instagram, @AsaNilssonSweden.
If you have any general questions or comments for the show, click moremosstothepeople@gmail.com.
If you'd like to advertise with us, moremosstothepeople@gmail.com.
Thank you so much for listening!
Xx,
Åsa
You can find us here: