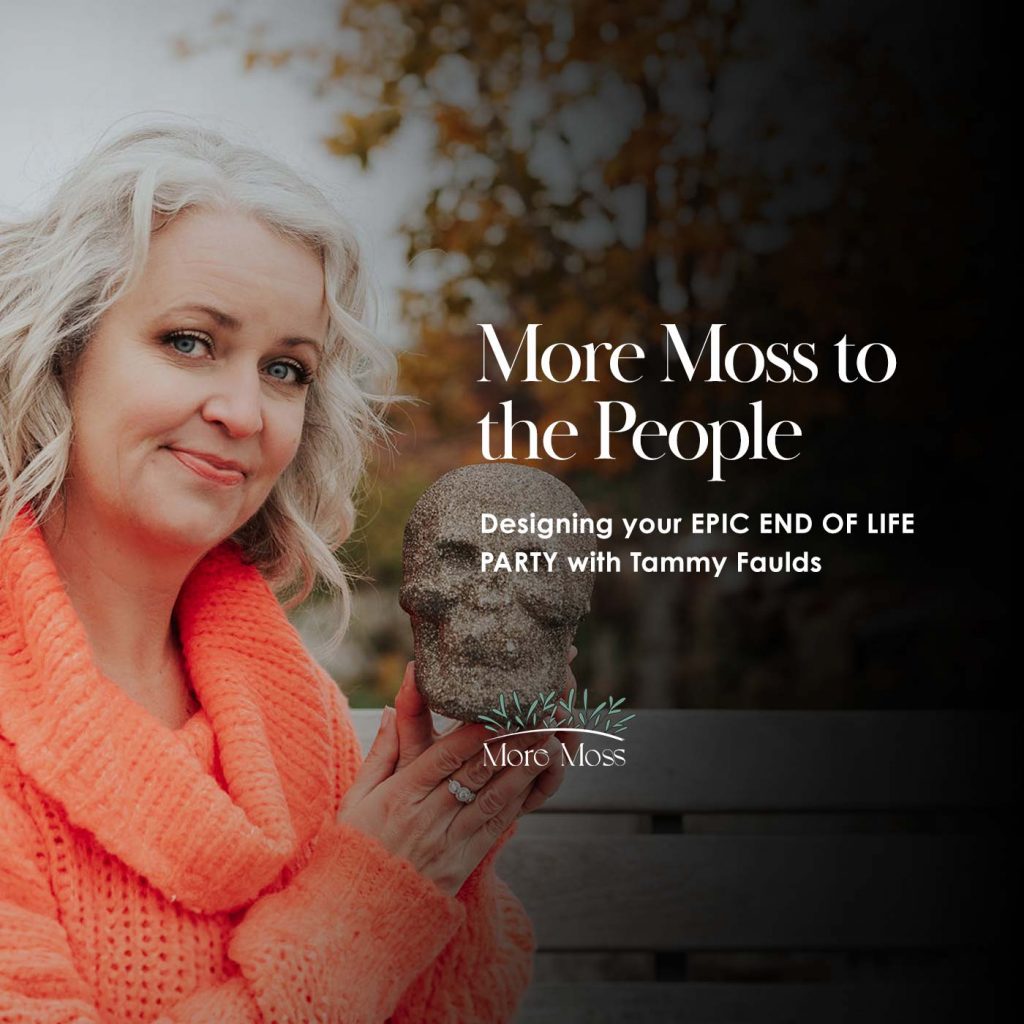 Designing your EPIC END OF LIFE PARTY with Tammy Faulds
By Åsa Nilsson | Aug 25, 2023



Grief Coach + Death Doula Tammy Faulds understands the importance of designing
your own end of life party now. Why shouldn't we? I mean, mic drop, you're going to
die, so why not be in charge of creating the most epic party you can imagine?
A true reflection of YOU and who you are and how you lived and how you want it to
look. Not some sterile, boring, dark mood and dark music kind of send off.
Imagine choosing to prepare, reframe, open up, and share what we want and how
we want it to look with our loved ones. The benefits of planning for your imminent
demise now far outweighs the scrambling and stress that will inevitably happen if you don't.
"Love leads", my friends. Love leads.
Guest Name: Tammy Faulds
Guest contact Information:
IN THIS EPISODE WE TALK ABOUT:
Always having been comfortable discussing grief and loss, Tammy went from Life
Coaching to Death + Grief coaching.
Tammy works with the Grief Recovery Process, helping people liberate themselves
of the pain of their past.
Doing death differently. Shining a light on traditionally dark topics.
Tammy was diagnosed with cancer as a 6 year old, surrounded by death and grief
her whole life. She is very comfortable with the topics.
40 different types of loss.
How Tammy defines grief.
Finding comfort in stories. Tammy shares an Objiway tradition and an Irish
tradition.
Finding comfort, feminising death, understanding more.
"The grief of the living propels that boat." Objiway tradition
What are Living Funerals?
What is biophilia? How does this tie together with 'More Moss to the People'?
Who is G.U.S.S. to Tammy? 🙂
With Tammy's background in event planning, she's working on creating THE idea for
an Epic End of Life Party! So much fun! YES! Authentic, personalised. And, of course,
Prince will need to be involved.
Starting a conversation with our loved ones, opening up for this starts with us.
How does Tammy get involved as a death doula?
"Love leads".
MENTIONED IN THIS EPISODE:
MAID, Medical Assistance in Dying,
https://www.canada.ca/en/health-canada/services/health-services-benefits/medical-assistance-dying.html
Mitch Albom's Book, 'Tuesdays with Morrie'. https://www.mitchalbom.com/
Jeff Orr, @jefforrknows, last week's podcast guest
Prince and the Revolution, "Let's Go Crazy", Tammy's exit song.
Earth Wind & Fire, https://www.earthwindandfire.com/ Åsa's exit band.
Some Extra Links from Tammy:
Epic Exit Party – the free email series that gets us thinking about how we want to go
out
What happens when we die? – my article that shares the spoken Objiway tradition
My Father's Wake – the book by Kevin Toolis that shares the Irish tradition we
discussed
Discovery Session – link for anyone who would like to chat/work with me. 🙂
Contact Information for Komeil Asli, Podcast Production Manager.
Freelance Graphic designer, UI/UX Designer and Front-end Developer.
Subscribe on Spotify, ACast, Google Podcasts, Apple Podcasts, Amazon music + YouTube (@AsaNilsson).
Like and follow us on Instagram, @AsaNilssonSweden.
If you have any general questions or comments for the show, click moremosstothepeople@gmail.com.
If you'd like to advertise with us, moremosstothepeople@gmail.com.
Thank you so much for listening!
Xx,
Åsa
You can find us here: