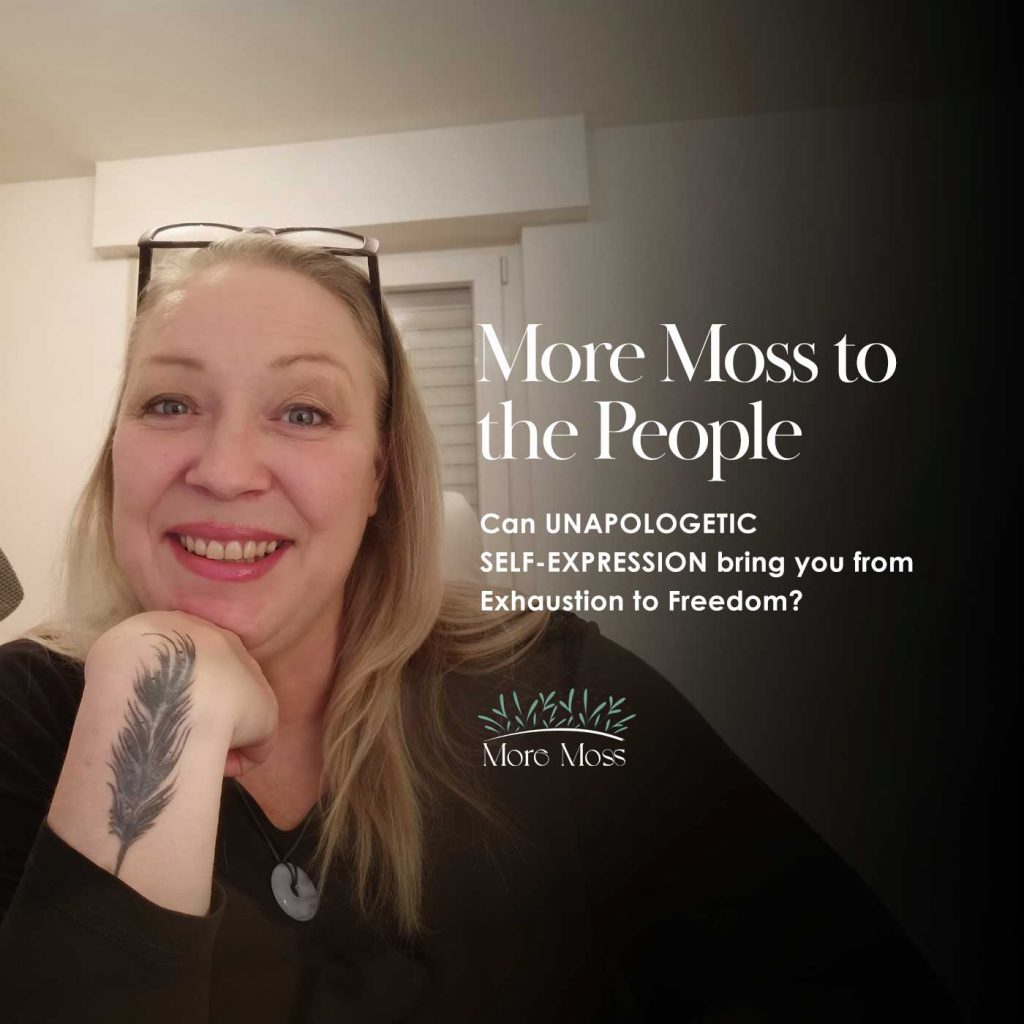 Can UNAPOLOGETIC SELF-EXPRESSION bring you from Exhaustion to Freedom?
By Åsa Nilsson | Oct 06, 2023



Tirza is my friend that HAPPENS to be an author of over 30 books!! Most are steamy romance novels!
Wahh! She is opposite of me in so many ways, yet we connect like two peas in a pod. My need for structure and her need for spontaneity, it simply works.
Tirza is one of my biggest supporters in this 'More Moss to the People' movement and I want to introduce her to you, so you can get to know her as a person and her work as a professional author and Goddess Facilitator.
She has had quite a journey and was a self-professed drama queen in younger years.
"I found inner peace, and I wouldn't give that up again for the world."
Yes, let her be … to write her steamy novels and work as a Goddess Facilitator and spiritual teacher. Tirza has so many gifts to share with us all and you are going to love her 'matter of fact' point-of-view on the top three super TABOO TOPICS (sex, money and death).
Enjoy!
Guest Name: Tirza Schaefer
Guest contact Information:
IN THIS EPISODE WE TALK ABOUT:
Tirza is spontaneous and Åsa is structured, we are a good match.
Tirza has authored over 30 books, most of which are steamy romance novels!
Her next book, The Hopping Hippos, launches October 12th. It's a rockstar reverse harem romance.
How did she come up with the title of The Hopping Hippos?
What is her creative process?
Where did her page "The Smiling Goddess" originate?
Steamy novels are a huge genre. Who knew?!
What does being a witch mean to Tirza?
The Witch's Cauldron, a video Tirza filmed for her Youtube channel. (Link is further up under the Guest Contact info.)
She is now more in tune with nature, cooking intentionally, creating rituals, using candles. She even has an ancestry altar, amongst others.
One of her ancestors is now Tirza's guide and protects her family and property.
She doesn't feel like a victim anymore.
Her website has over 300 pages, one part books, one for services like Goddess Reiki or Tarot readings, and one her "Divine Library," containing information on Goddesses, Gods, Power Animals, Tarot and more. A huge resource!
Tirza's experience as a younger person living in a patriarchal society.
"I was such a drama queen, OMG. You live and learn. It's so nice just to be."
"Part of our liberation is discussing death and sexuality."
How Tirza started to uncover her passion for writing steamy romance novels.
"Do not be ashamed of who you are. Find your soul tribe. Don't live in shame and guilt."
MENTIONED IN THIS EPISODE:
Contact Information for Komeil Asli, Podcast Production Manager.
Freelance Graphic designer, UI/UX Designer and Front-end Developer.
Subscribe on Spotify, ACast, Google Podcasts, Apple Podcasts, Amazon music + YouTube (@AsaNilsson).
Like and follow us on Instagram, @AsaNilssonSweden.
If you have any general questions or comments for the show, click moremosstothepeople@gmail.com.
If you'd like to advertise with us, moremosstothepeople@gmail.com.
Thank you so much for listening!
Xx,
Åsa
You can find us here: