What's life going to look like now, after the death of my beloved (God) dog Fuji? Should I isolate, retreat into hermit mode? Nahh, that's way too easy.
What would Fuji do?
He would choose to run boundlessly in the forest. Because he knows all too well that time runs out.
Remove the leash and run, my friend. Run. You are free.
We ALL are. Let's remember that.
The guest contact info:
Guest name: Åsa Nilsson
Takeaway's from this episode:
There's never been a time to have a more exemplary life than today.
The power of 'this' moment. I am working on not missing out on them due to too much planning for the future.
Too much planning makes me miss out on opportunities today.
Swedish saying, "There's no such thing as bad weather, only bad clothes."
I have a heavy heart, working on healing from my grieving.
"Spirit is never too late"- Tim Ciani
I nearly missed out on the revealing of my friend's truth today because of my hermit mentality. Thank goodness I didn't. No thumb sucking.
I believe all dogs go to heaven.
Taking Fuji off leash in the forest.
Fuji galloping in the snow with a huge smile on his face, Go, Fuji, Go!
Where are you keeping yourself on a leash?
One day or day one? You decide.
Am I running out of time?
Tarot card, the 8 of Swords.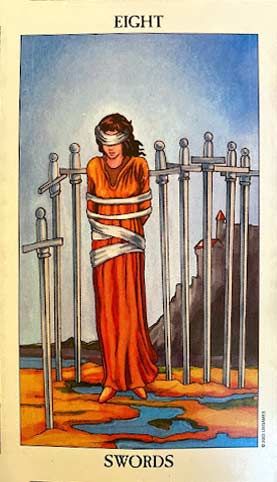 Mentioned in this episode:
Åsa's DOG VERSION of "Tears in heaven" by Eric Clapton https://youtu.be/JxPj3GAYYZ0.
Åsa uses her Radiant Rider-Waite Tarot Deck , 8 swords, pictured above. https://www.adlibris.com/se/bok/radiant-rider-waite-tarot-deck-9781846045837?gclid=CjwKCAiA9NGfBhBvEiwAq5vSyxu6lV7qZ4iIdPxXRNqbhXTG0MVFdzqjq7NeJSim9Q_HN50h83XBhxoCKRYQAvD_BwE A Course in Miracles: "What would You have me do? Where would You have me go? What would You have me say, and to whom?" (Lesson 71, ACIM)
Subscribe on Spotify, ACast, Google Podcasts
If you have any general questions or comments for the show, click moremosstothepeople@gmail.com.
If you'd like to advertise with us, moremosstothepeople@gmail.com.
Thank you so much for listening!
Xx,
Åsa
You can find us here: